Darkspace Academy: Getting Started III - Navigation - By: Baron Von Virtu
Getting Started III - Navigation
A Darkspace Connection Guide for v1.481 and Beyond
Guide made by: Baron Von Virtu
This guide is property of its author, except where Palestar may apply,
And may not be reproduced without the author's permission.
So, now we've learned the basics of how to play Darkspace ingame have we? Its time to move on to the next part of the Getting Started Guide, Navigation. You know, its that F2 button you can press that brings up the pic of all the pretty planets and stuff. But do you REALLY have any clue what it all means? We hope to make sure that you know with this guide.
So, for this guide, we're going to head on to the darkspace.net - Metaverse, the pride and joy of many gamers who play Darkspace. This is the best spot for you to learn your way around the navigation.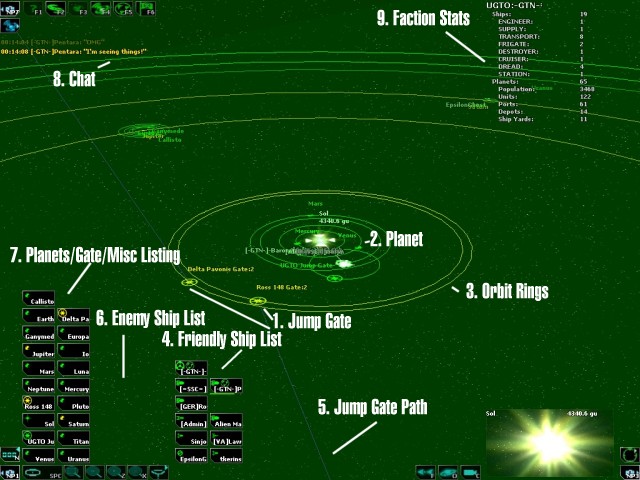 Here's a picture of the Navigation (F2) from the Sol System in the Darkspace Metaverse. I've labeled the above image with nine different topics. I'll explain each in this guide, so lets get right to it.
1. Jump Gates - Scattered throughout the Metaverse , connecting systems with this gate. Generally the easiest, if not riskiest way to travel between systems because of lurking hostiles.
2. Planets - I think these are self explained.
3. Orbit Rings - The orbit path of objects in that ring.
4. Friendly Ship List - A list of friendly ships within an area of 250,000gu. The ship class can be determined by the icon above the player's name.
5. Jump Gate Path - The path of where the jump gates that are connected go.
6. Enemy Ship List - List of hostile ships within an area of 250,000gu.
7. Planets/Gate/Misc Listing - List of the nearest planets, gates, wormholes, etc. All of these are selectable.
8. Chat - The chat box.
9. Faction Stats - Stats of your faction's current fleet numbers on the Metaverse, the amount of planets under control, etc.
On the metaverse, you can use the Zoom Out (Z) [Max Zoom Out (SHIFT-Z)] to see the entire Metaverse. You can select a system or whatnot and press the spacebar to center your navigation screen on it and then Zoom In (X) [Max Zoom In (SHIFT-X)] to get a closer view of the system and its planets. This also works in the same way when viewing insystem. The Navigation shows everything from friendly ships to enemy ships, gates, etc.
If you are a station or a Jump Cruiser looking to open a wormhole in another system. You can zoom out to maximum range and when select your system in range, etcc.