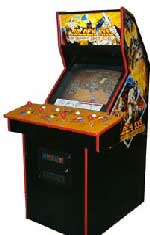 Welcome to Death Adder's Castle
So you think you know a thing or two about Golden Axe? Yeah, me too. That is until a few years ago when I started this little Golden Axe website. That's when I realized that my Golden Axe knowledge was just a drop in the bucket compared to what the rest of the world would teach me. So read on, you might just learn something about life, the universe, and everything.
What's New?
1.1.09
First update of the new year! (though it is a minor one.) I corrected credit to Kimagure for the Season's Greetings fan art.
Blades of Vengeance has finished their "Tribute to Golden Axe" album! Check it out here!
Also, for the Projects, I'm looking for help on the Museum Project. If anyone wants to help gather information to complete this Project, feel free to sign up for Team Adder on this thread.
Happy New Year everyone!
12.25.08
I added a pic to the Fanart section. Kimagure sent in a "Season's Greetings" pic of the first Golden Axe's Lemanaya (Zuburoka in Japan).
Also, check out the Museum Project and feel free to contribute any info on the series that isn't posted yet! All credit will be properly given.
Happy holidays, everyone, and let's all get ready for another new year! Best wishes to all of you out there!
11.13.08
International Golden Axe Week begins today! Head to the Projects to participate, and check out other contributions! Contest winners will be posted here as well. Today is the second anniversary of the Golden Axe Projects, also. That's where I got the idea for Golden Axe Week.
Today's Character of the Day is Death Adder, Jr.
Blades of Vengeance is almost done with their Tribute to Golden Axe album! Check it out here. Also, of you have a MySpace account, send them your feedback!
10.25.08
A short update today. More will come soon, I promise!
Ax Battler shares more of his wisdom on Ask Ax Battler.
10.19.08
Changed the "Ask the Death Adder" page to "Ask Ax Battler." Death Adder needs to spend more time invading villages- many have not even seen an army in years. Contact me with your questions, and I will forward them to Ax Battler for his wisdom.

Added one of my newest creations- a Death Adder sprite- to the fan art section. Also added annoyinglizardvoice's Chicken-Leg miniature and a neat-looking Chicken-Leg by Deimos-Remus.

In the Golden Axe Genesis page, I added the fact that the neo-skeletons in Death Bringer's room can be killed.

In the Movies and Music page, added some amazing music by the Blades of Vengeance. Also added in some videos of Golden Axe characters in Soul Calibur 4, made by Space Channel 4.
10.14.2008
Big update today, quite a few major events in the Golden Axe world.
1. Death Adder's Castle is under new ownership. Ben has chosen to pass on his control of the Castle to me. Many of you will know me as The Songbird from the Golden Axe Projects. I will be running the Castle as well as the Projects. Many thanks go out to Ben for his hard work on this site. Any true Golden Axe fan knows the name "Death Adder's Castle" thanks to him. You can look at the thank-you thread here.

2. I am changing all the links to the Projects because, as most of you know, we are no longer an Invision board. And even greater news- we have our own domain name here, thanks to the donations of Larzuk and annoyinglizardvoice! it is now http://goldenaxeprojects.org.
3. Beast Rider is being released TODAY! So raid your local game shop- or anywhere you can get Beast Rider- and get it! And for those of you who pre-ordered, you also get your own copy of "The Art of Golden Axe: Beast Rider."
4. I will be changing links here and there, particularly in the Contact DAC and Links pages. Let me know if something doesn't work for you.
7.16.2008
We're all just in a holding pattern waiting for more details on Golden Axe: Beast Rider. If you haven't, check out the official site and watch the trailer again and again.
And check out this good thread on Joystiq about the ongoing debate about not having multiplayer in Beast Rider
As you wait for details to emerge, see for the first time (that I know of) a "Best in the Universe" run on Golden Axe: Revenge of Death Adder. This is what dreams are made of, folks.
4.06.2008
Wow. It was almost a year since the last update. I'm slogging through a year's worth of emails. If I don't post something you've sent it, feel free to contact me it may have just gotten lost in the pile of Viagra offers I've also received.
Go listen to this rocking Golden Axe tune from Skeletor and the Boners to get a nice Golden Axe fix.
New Golden Axe 3 translations are been posted. Thanks to Tony and Bombman. Also more Spanish Golden Axe info can be found here.
The Neverwinter Nights mod, Rise of the Death Adder has been updated. Find it here.
More fan art, of course.
Lexor discovered a interesting connection between Golden Axe and Icewind Dale II. Read more about it here.
4.23.2007
Is there any site on the planet that has less regular updates than this one? No, really. Please let me know. That way I won't feel so bad.

A French review of Golden Axe on the PC can be found here.

Tex out does himself with his fan art entries here.

An ad of Golden Axe 2. . . in a foreign language.

Download the entire soundtrack to Revenge of Death Adder here. Thanks to Kyle Pickerel for his musical goodness.

Lots of new YouTube stuff as well.
02.11.2007
New fan art? Yes. See it here.

New fan fiction? Yes. See it here.
02.03.2007
Okay, here we go with the updates:

Kyle Pickerel sends links to MP3s for Golden Axe, Golden Axe 2, and Golden Axe 3.

More pictures and thoughts added for Golden Axe: The Duel sent in by the world's greatest forum moderator, The Songbird. After you're finished here, discuss all things Golden Axe on her Golden Axe Project message board.

Some Golden Axe fan art sent in by utunnels. Strider also sends in some of his own.

utunnels also sends in a Golden Axe arcade glitch.

A bunch more Golden Axe related stuff showed up on YouTube, so check that out. And if you haven't seen the Mortal Kombat one I posted earlier, make sure you check it out.

And finally, the Death Adder responds to some fan questions.
01.04.2007
Hooray! Another year or something.

When I'm not thinking about buying games that are Golden Axe, I'm thinking about buying games that are not Golden Axe. But where do I go to find the best deals? For about two years now, I've been going to Cheap Ass Gamer -- by far the greatest site dedicated to finding great deals on games. I can't remember the last time I paid full price for a game or a system. Check out their forums often to find some amazing deals on games. My latest find, thanks to their site, was buying Half Life 2, new and sealed, for only $2.00.

And related to that, they had a contest to make a video using the audio from their world-famous podcast. To see my Brokeback Mountain inspired entry, go here. I know it's not Golden Axe related, but not everything in this world is -- unfortunately. See my competitors' entries by going here.
12.21.2006
A Spanish translation of the Golden Axe manual can now be found here. (You know you've been asking for it).

New ad scans for Golden Axe and Golden Axe II on the Genesis.

Thanks to Sokar for sending the links.

Read original Golden Axe comic books here. Thanks, Garrett.

Lots more YouTube greatness to view here -- from the Wii to the Wonderswan.

And finally, help The Songbird figure out the "Golden Axe Mystery of 1987" on the ever-growing Golden Axe Projects message boards.
11.13.2006
Fan Art, of course.

But also some more music and fiction.

And for those of you looking for a Golden Axe message board, a new one has been created by The Songbird. It's brand new, so get in on the ground floor. It's also home to a Golden Axe quiz that is for true fans only.

11.02.2006

Ask the Death Adder chimes in with advice for the upcoming American elections.

Some fan made music has been added to the fan movies page.

And some more game play movies, in Flash format, have been added to the game play movies section.
10.23.2006
Lots more YouTube Golden Axe videos put up. See them now before they are sued out of existence.
10.03.2006
A Japanese translation arrives to decipher the Golden Axe III manual. Thanks to Angel the Techrat.

And new fan art added.
10.02.2006
A French translation came in thanks to Andy. Go to the miscellaneous systems page to read what the French think.

Added links to the trailer for the next-gen Golden Axe game play movie. Well, not confirmed game play, but better than anything else we have to go on.

And if you wondering why that thing you sent me twelve months ago hasn't been posted yet, be patient. I'm still recovering from my prolonged vacation.

And I know, there are bugs in the new design. Report them here. And I know there are typos and grammar errors everywhere. I'm working, I'm working. You would never believe I have a Master's degree in English. The redesign has me writing more copy than my college thesis.
10.01.2006
What's changed? Well, everything. Welcome if it's your first time. Welcome back to everyone else after my 15 month or so vacation. Lots of new fan art to show you. There will be lots more to add in the next few weeks as I get caught up on all the mail. Hope everyone like the changes.