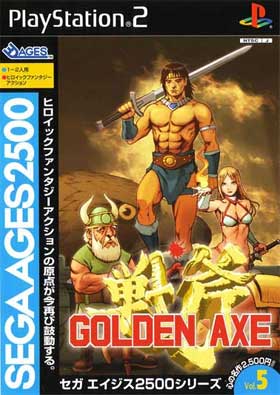 So, like we waited and waited for a new Golden Axe game to arrive. And then, sure enough, Sega announces a new and improved version of Golden Axe for the Playstation 2. And we see some early screenshots and we think, "Hey this might be pretty good!" And then we play it. And it sucks. It sucks bad. But don't take my word for it.

Paul sends in his review of Golden Axe on the Playstation 2. Read on.

Another review by a Japanese gamer:

"It is the very worst remake. Although waited to pleasure, expectation was betrayed very much. With such the result, I can consider that it was better not to transplant. The Japanese fan was very much disappointed, and remembers anger to the maker."

I was reading the current issue of Electronic Gaming Monthly and they reviewed the Sega Classics Collection for the PS2, which contains a new version of Golden Axe. Despite getting bad reviews as a whole, each reviewer singled out Golden Axe as the worst of the bunch! Well, we wanted a remake and it looks like the one we got is garbage.

If you want to see for yourself, head over to the game play movies section.
---

Full sized front and back cover of Golden Axe for the Playstation 2. It looks cool enough from the outside.

---

But then you put it into your machine and start playing it.

---

Chicken Leg is embarrassed to be in this game.

---

Oh, I fell in to a burning ring of fire . . .
---