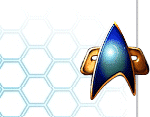 Starfleet Universe
Current News
Old News
Interviews
Articles
Downloads
Tutorials
Staff

SFC Community
SFU Forums
Links
Modder Policies
Nightsoft
STGU

SFC Volume III
Press Coverage
Ship Profiles
Screenshots
Model Installation

SFC Orion Pirates
(SFC2:OP)
Picture Gallery
Mods Installation

SFC Volume II
(SFC2:EAW)
SFC2 Dev. Diary
Picture Gallery
Online Gaming FAQ
Interface

SFC Volume I
YnrohKeeg's Tactics
Mission Reviews
Game Information
Music Gallery
Picture Gallery

Hosted Sites
Newships Project
Omega Sector
Fleet Dock 13
SFC Briefing
Vulcan Yards
Get Hosted!


So who makes Starfleet Universe tick? Why, these people of course:
Raven Night
| Executive Director

Brad Bowermaster
| Administrator, Coordinator, and Webmaster
Brad has been with the SFC Community since the SFC1 Demo in August 1999. Having several stints around the community, Brad started out as a modeler at Newships Project and then took a staff position as Public Relations Officer. After Newships Project went on a hiatus, Brad then became a Shipyard Assistant and Docking Ring Engineer at Starfleet Battles to Starfleet Command After SFB 2 SFC took a break, Brad then went back to his roots at Newships Project as Project Manager and eventually would come to revive Starfleet Universe.
Joseph 'JoeRad' Conrad
| General Information and Web Maintenance
A rarely seen ( but often heard from) member of the Starfleet and gaming community in general, Joseph often goes by the net name of "JoeRad". Now at the age of 18 he is the administrator of a discussion site (NATIONSFORUM.US) as well as his volunteer work at SFU.
Joshua '3dot14' Li
| General Information, Resources, Links, and Web Maintenance
"I am just another one of your run of the mill Star Trek geek. (Did I say that aloud?) I have been fan of Starfleet Command since the start and will do my best to bring the news to the SFC community. I'm also webmaster of the Newships Project."
Would you like to be a part of the staff here at Starfleet Universe? We're always on the lookout for talented individuals to help out with news updates and/or anything else you feel you can contribute to the site! Shoot a mail to Trekke1170@strategyplanet.com giving him some details about what you'd like to do for Starfleet Universe and what previous online work you've done before or are currently doing!