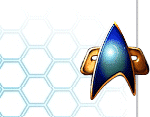 Starfleet Universe
Current News
Old News
Interviews
Articles
Downloads
Tutorials
Staff

SFC Community
SFU Forums
Links
Modder Policies
Nightsoft
STGU

SFC Volume III
Press Coverage
Ship Profiles
Screenshots
Model Installation

SFC Orion Pirates
(SFC2:OP)
Picture Gallery
Mods Installation

SFC Volume II
(SFC2:EAW)
SFC2 Dev. Diary
Picture Gallery
Online Gaming FAQ
Interface

SFC Volume I
YnrohKeeg's Tactics
Mission Reviews
Game Information
Music Gallery
Picture Gallery

Hosted Sites
Newships Project
Omega Sector
Fleet Dock 13
SFC Briefing
Vulcan Yards
Get Hosted!


Starfleet Command: Milkshape Texturing
This is a step by step guide for texturing a starship model when modelling in Milkshape. For more information about Exporting a Milkshape Model to SFC, please visit SFU's Download section.
By James Formo
Step 1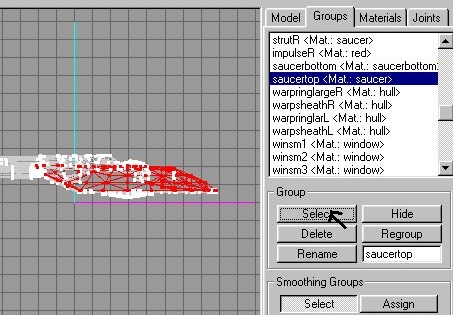 Click on the Groups tab.
Scroll down to find the group you want to assign textures to, highlight it (in this case I am assigning saucertop to a bitmap) then click Select.
The group is now selected, as you can tell by the red vertexes.
Step 2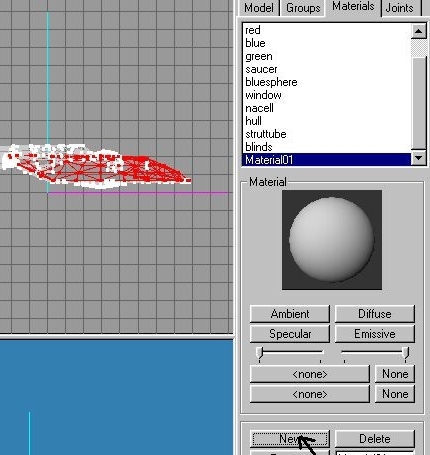 With the group still selected, Click on the Materials tab. Click the New button.
Step 3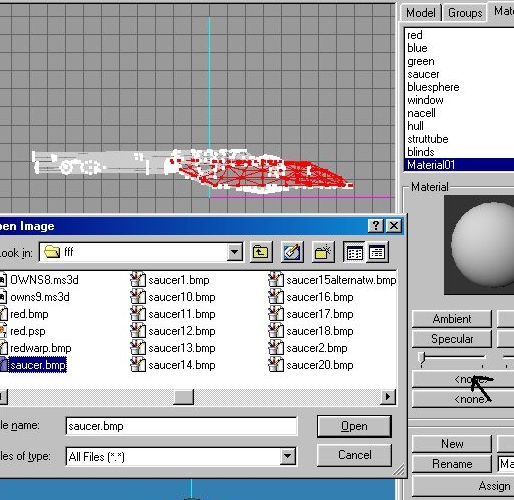 Click the top <none> button to open a window that allows you to select the texture you will assign.
Select texture (in this case, the file named saucer.bmp) and Open the bitmap.
Step 4

Still under Materials tab. Click Assign.
Step 5

Open the Texture Coordinate Editor (TCE). Your group (saucertop) must still be selected.
Step 6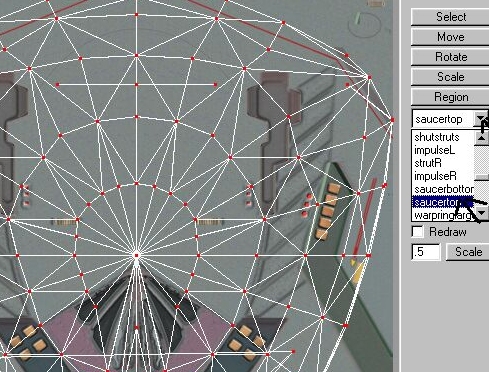 In TCE under the top drop down box. Select your group. (saucertop for this example)
Under bottom drop-down box, select the view to assigned texture. In this case Top works best.
This will map the texture to the group using the entire bitmap
Step 8
OPTIONAL.
You can assign a group to just part of a bitmap by clicking Region, then select a portion of the map using your mouse.
Click Remap and the saucer is assigned to the upper right corner in this example.