The Guts - Page 3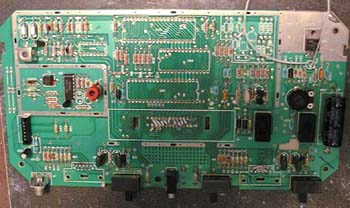 January 31, 2001
7:00pm Update! David Frank sent me the schematics for the 2600 this evening - Thanks Frank! I really appreciate it! Now I can start my CE board design!
I did do the scariest thing yet last night - I removed the Stella, RIOT, and 6507 chips from the Junior board. I needed to for two reasons: I needed to trace circuits that ran underneath the Big Three, and I wanted to see just how tough it would be to remove them, since the plan will have me transplanting them (the only parts not available at Radio Shack) onto a new board.
It really wasn't bad at all - I had to make sure every pin was completely free of the hole it sat in (just a little solder left would make the pins catch). Anyway, I'm extremely confident that removing these chips from any Atari board will not be a problem for assembly.