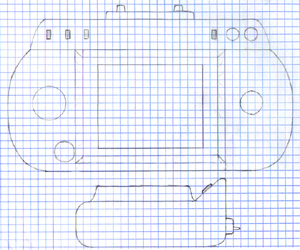 The Case

This also relates to the guts, kinda.

I've been thinking long and hard, and despite the fact that it'd be very cool to have a 5" LCD on the CE, the reality is that every LCD I can find greater than 3" is a 12 volt unit - which means 8 AA batteries.

The weight, size, and battery life issues have been bugging me for a while, and I think that the best thing to do is to go back to a smaller LCD from a portable TV.

They all are optimized for 6 volts, so 4 batteries will run it and the 26000 board just fine.

I'm still going for a larger screen size, but balancing it against the cost of the TVs - the 3" is $190, which'd push the cost of the CE close to $300.

Another option is the mobile monitor products for the major consoles - they are large (5"), but I haven't found specs on their power requirements yet.

This'll also allow me to shrink the case a bit, and it'll be a lot easier to hold.

I'll be reworking the case a little, then I'll be visiting a plastics company that's close to my new house.

I'll post pictures of the new case design when it's finished, which should be in the next couple of weeks.

Comments? Questions? Answers?
Email me!