The Guts - Page 2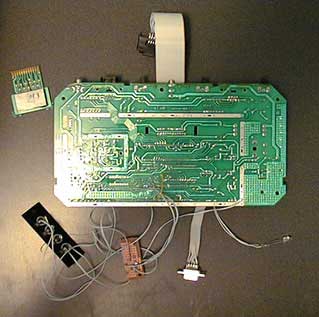 January 30, 2001
Here's where the circuit board still is. I haven't really touched it, I've been focused hard on the case.
Tonight that changes. I'm mapping this circuitboard tonight (I hopefully will get it done tonight).
I was going to pick up a big breadboard for experimenting with the new design, but they are expensive! It'd cost $75 to get something that I'd be able to use for this project. I may still do it, but I can survive soldering stuff to perfboard.
I checked out a replacement voltage regulator yesterday, and it'll cost $7.25 each. I'm not sure if that is the direction to go or not. The extra battery life would be nice - but I'd only be getting an extra volt of input tolerance which may only mean a half hour of game play.
The problem that I'm trying to solve, by the way, is one that Ben Heckendorn identified - the Atari runs on five volts. To get that, it uses a 7805 type voltage regulator that takes any voltage coming in (up to 35 volts - 9 volts from the Atari adapter) and knocks it down to five (by giving off heat). The problem is that it requires at least 7 volts incoming to work, so when your batteries start to fade, the Atari will stop working when the voltage hits the 6.5 - 7 volt range going into th regulator. If we had an extra volt to work with, the batteries would be able to power the Atari longer.
One of those trade-offs I have to evaluate further.