Petition
This is a petition to Nintendo of America with
the goal to bring the Super Nintendo game
Super Mario RPG: Legend of the Seven Stars
to the Game Boy Advance. Please help us by signing!



Sign the Petition | View Signatures


First letter to Nintendo (at 2000):
Letter Sent | Letter Returned


Care to put the button on your website? It will look like this: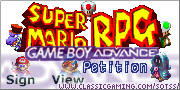 Copy this HTML to your page EXACTLY. Please do not save the petition image on your server.
<!--
SOTSS GBA Petition Remote Code
Source: http://sotss.classicgaming.gamespy.com/
Version: 2.5
-->
<map name="sotsspet">
<area shape="rect" coords="3,73,37,88" href="http://www.PetitionOnline.com/sotsspet/petition.html" alt="Sign" target="_blank">
<area shape="rect" coords="49,73,87,88" href="http://www.PetitionOnline.com/mod_perl/signed.cgi?sotsspet" alt="View" target="_blank">
</map>
<img src="http://sotss.classicgaming.gamespy.com/petition.jpg" alt="SOTSS Petition Remote Button" width="180" height="90" border="0" usemap="#sotsspet">
<!-- SOTSS GBA Petition Remote Code :End -->