Booster Curtain Game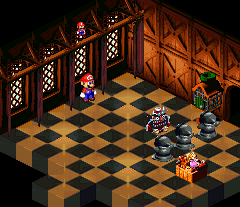 Booster's lost his Mario doll, so he must look for it. Actually, he has his Sniffits look behind the curtains for him. Hide in the areas marked with a Mario above, and avoid the ones marked with a sniffit. If you can survive throug hall 3 rounds without getting caught, you'll recive an Amulet. Use the below chart to select the best hiding location (warning, no pausing during the game):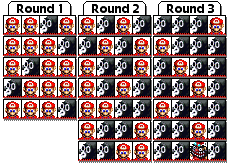 Booster Gallery Game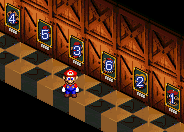 About halfway up Booster Tower you come to a replica of the family picture gallery from the lobby: on mixed up. You must look at the pictures in order from oldest youngest. Above is the correct order. The prize is the "Elder Key" which will get you into the locked door to the left and then to Bowser's First Weapon.
Booster Hill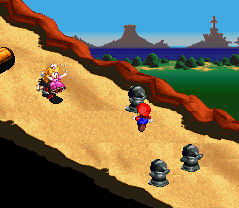 Same as Beetle Race, just you're trying to touch Toadstool instead of grabbing beetles. (1 touch = 1 Flower.)
Goomba Thumpin'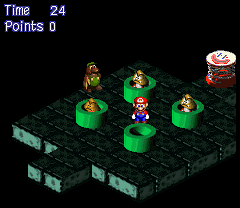 In the Pipe Vault, in the room with about 6 or 7 pipes, drop down the second to last one (from the mainland). You can now play the Goomba Thumpin' Game. Stand in the middle and jump to the pipes and bop Goombas. A gold one is worth 2 poins, normal 1, and a Spikey takes 1! Even time you beat the target score, you will recive a Flower Tab, Box, or a Frog Coin.
Fortune Teller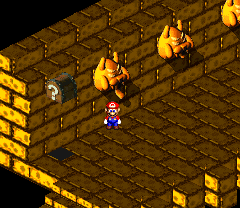 At 50 coins a whop, this is probably a 1 time thing. Simply pay up, and hit the statues in any order. Each one gets you a different ending. Here are the six patterns and their results:

Left-Center-Right: Yoshi Cookie or Mushroom
Left-Right-Center: Yoshi Cookie
Center-Left-Right: 3 Chows
Center-Right-Left: 3 Chows and a Shy Away
Right-Left-Center: Frog Coin
Right-Center-Left: 100 Coins
Great Guy's Casino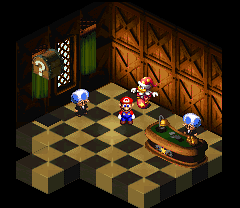 The casino is actually 3 minigames. The first one is the slot machine (treasure box). 3 in a row and you get a Frog Coin. Anything else, you loose. #2 is "Look the Other Way" (Great Guy). Talk to Great Guy untill he asks if you want to play. After 100 wins (he dosen't count off losses), you'll get the Star Egg. The last is Black Jack. Normal Black Jack rules, and if you win you get a Frog Coin. Loose, and you loose a frog coin...
Marrymore Bellhop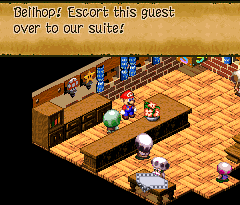 Stay in the Marrymore Suite 1 or more days beyond the number of 100 coins you have by talking to the lamp after each night. The owner will take 100 extra coins for ever night, and if you're left broke and still have more to pay, prepare to work it off! The guests will sometimes give you Flower Jars or Boxes as a tip, but you do have to do it long enough for the debt to be paid...
Melody Bay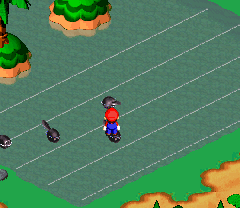 To the far right of Frogfucius is Melody Bay, Toadofsky's adobe. Play certian songs with his musical tadpoles to win the membership cards of the juice bar there in Tadpole Pond. Just play the first two songs below. The next one you can't play untill Monstro Town! Here's the solution to the songs: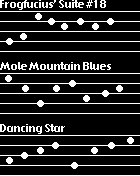 Midas River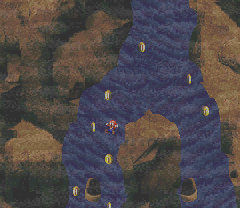 As you get sweapt down the river, coins appear. Grab as many of them as you can, for the more you, get, the better the chance of a Frog Coin. After you finish the waterfall, you must now travel the river itself. Rolling on some barrels, you must once again grab coins. After all is said and done, you get to turn in your coins for a Frog Coin--if you got more than 60, 70, or 80 (It changes each time.) If you have more, the owner will hold those coins. If you don't have enough, he will hold those too. Get enough coins, and you'll be given a Frog Coin.
Moleville Mountain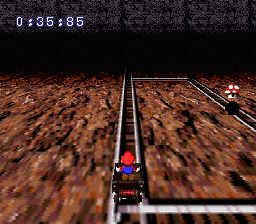 After Puncinello, you are required to take a Minecart out of the mines. Grab mushrooms & press X to get a speed boost. Y is break, and you'll need that to take U turns or quick changes of the course. If you're the betting type, take the ride as slowly as you can (hold brakes). Then, when you can wager coins, the record is your super slow time! You can access the minigame at the top of the hill after Dyna/Mite are rescued.
Mushroom Derby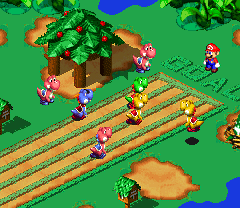 Once you've beaten Boshi 101, you can then star to bet on the races. However, you can only bet Yoshi. His winning or not is random, and so is your wager. The race is on Yo'ster Isle, so you're using their currency: cookies! One of the Yoshis will give you 3 whenever you're out (I'd like to see the real derby do that!) of 'em. Another will hold up to 200 in her "bank". Also, you can watch Yoshi race or ride him like you did in 101. Wathching is alot more fun...
Mushroom Derby - Boshi Race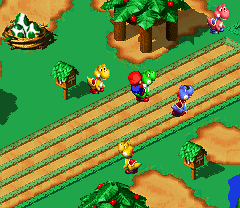 Before you can even bet on a single race on Yo'ster, you must first beat the current Champ, Boshi. First of all, hop onto Yoshi and talk to one of the Red Yoshis at the finish line. Say "Of Course!" to recive some cookies to go wager with Boshi. During the race, Press A + B in time with the music to go faster. Pressing Y makes you eat one cookie, which is a quick speed burst. Win, and you'll return Yo'ster Isle to normal.
Sergeant Flutter's Cliff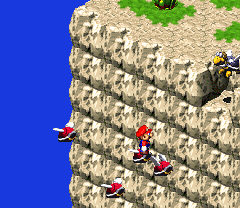 This is one of the easyest minigames. Simply ride the Koopa Patroopas up the side of the cliff to complete it. If you'd like to gain a profit, play it in 14 seconds to get a 33% chance of winning a Frog Coin. 12 seconds gives you a troopa Pin. 11.49 seconds gets you 1 Frog Coin. 11 seconds is 5 Frog Coins!!!
The Six Doors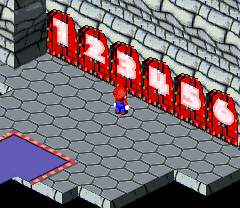 Deep inside Bowser's Keep is the hardest and most time consuming of the Minigames: The 6 Doors. 2 are battle, 2 are puzzle, and two are action. The battles are very straitforwards, just battle 15 group of enemies to win. The Puzzle ones make you think, so some of them are a challange. The action ones are nothing but obsticale courses. Finish 4 and you can move on through Bowser's Keep...
Sky Bridge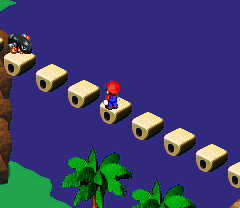 Deep into Land's End is this strange minigame. The object is to jump from doughnut lift to doughnut lift. Bullet Bills are shot at you and knock you off. There are 3 difficulty levels, and they give you 5 coins, 8 coins, and 1 Frog coin respectfully. If you complete it once, the Shaman asks if you would like to try and double your winnings. You can double only twice.