---
Majesty Northern Expansion Patches
---
Version 2 (4.6 MB) - This is a great patch that has some needed fixes and support including better GameSpy Arcade gameplay! *You do NOT need to install the version 1 patch before installing this one.
---
Majesty Patches
---
Version 1.4 (5.2 MB) - This update consists only of a bug fix which allows multiplayer Majesty to be launched by Internet matching services other than MSN Gaming Zone, including GameSpy Arcade and GAMES.COM. In previous versions of Majesty, launching from any service other than MSN Gaming Zone would cause a crash. *You do NOT need to install the version 1, 2, or 3 patch before installing this one.
---
Downloadable Quests
---
The Balance of Twylight (2.1MB) - Somehow, the Shrine of Light has been despoiled, causing its opposing shrine to grow greatly in power. The dreaded Black Phantoms have been drawn to the power of the Shrine of Darkness, and so long as they are permitted to feed upon it, they cannot be destroyed.

It is said that that an ancient sage was entombed in this place long ago - if you can find his tomb and restore him to life, perhaps he will know how to restore the Shrine of Light.
(Requires Northern Expansion)

The Wrath of Krolm (4.3MB) - The followers of Krolm have challenged your fitness to rule over the wild Northlands. Before you lies a valley consecrated to the worship of Krolm. It is said that in this place the spirit of Krolm manifests to destroy any who would intrude on their holy ground.

The other gods contest Krolm's claim to the entirety of the Northlands, and the priests have charged you with the duty of weakening his presence in this place. Be warned! There is no doubting Krolm's power in this place. The very air throbs with his presence and the warcries of his followers echo through the hills unceasingly.
(Requires Patch to Version 1.3)
---
Majesty Sound Editor
---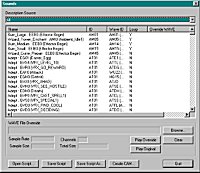 The Majesty Sound Editor allows you to replace the in-game sounds with your own .wav files. Install it into your majesty directory and run it -- it'll allow you to review all of the existing sounds, replace sounds, preview them, and save them. When you next play Majesty the sounds of your kingdom will be replaced! Your heroes can talk jive and your court advisor can lay down the smack....
Get it here! (133.4 KB)

Also, Check out our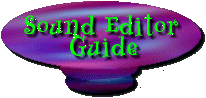 ---
Miscellaneous
---
Custom sounds for PlanetFargo:
MP3 (142k)
WAV (1.21 MB)
---
WinAmp Skin
---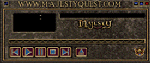 Valoric is one of the highly-talented artists from Cyberlore, and we appreciate his work on this skin.
Get it here.
---
Wallpaper
---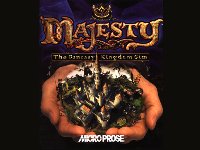 640x100%...800x600...1024x768...1280x1024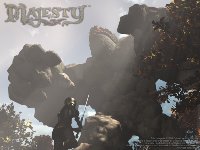 640x100%....800x600....1024x768
---
Majesty-Dragon T-Shirt Graphics
---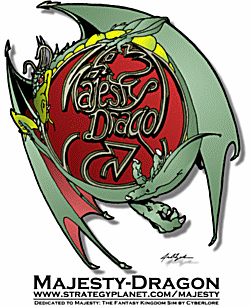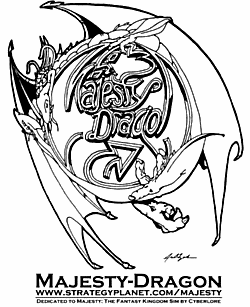 In case anyone is interested in making up a Majesty-Dragon T-Shirt, here are some graphics you can use. I only ask that you agree to not make any changes to the graphics, and that you do not charge for anything you create using them. You should also attempt to make the highest quality product possible from them. A high quality site like Majesty-Dragon deserves high-quality distribution. :)


Full Color Version (1.82 MB)

Black and White Version (240 KB)
---
Majesty Demo
---


If you have never used Gigex before, you will notice that the initial download is very small. You are downloading the Gigex software. Run the program that you download and that allows you to download the demo.
So, what are you waiting for?
Download the demo!

You can also download the demo from these sites.