Platform:
Nintendo GameCube

Release Date (Japan):
July 25th, 2003

Release Date (North America):
August 26th, 2003

Release Date (Europe):
October 24th, 2003

Release Date (Australia):
October 17th, 2003

Developer:
Amusement Vision (Sega)

Producers:
Shigeru Miyamoto
Toshihiro Nagoshi

Director:
Hiroyuki Sakamoto

Pilots:
41

Tracks:
26

Notes:
Uses tracks and pilots from AX.
Support for the licensed Logitech Racing Wheel accessory.

Additional Resources:
Cup Ticket Charts
Custom Emblems
Game Secrets and Codes
Merchandise
Pilot Profiles
Story Mode Rewards Chart
Track Listings and Maps

Downloads:
Game Music
Videos, Trailers and Movies
Wallpapers and Icons

Links:
F-Zero (Official Site)

Box Art:
Japanese Box Art
North American Box Art
European Box Art
Player's Choice Box Art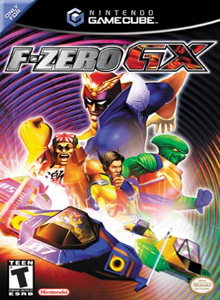 Sega and Nintendo have teamed up to deliver the goods once and for all. This is F-Zero like you've never seen it before! It's a much faster and prettier experience than ever. New modes, such as Story and Garage incorporate new ideas into the series. Also, the innovative Arcade link connects F-Zero GX to F-Zero AX, so you can take your custom machines to the arcade, and vie for the top in internet rankings.
And hey, the music is good, too!