Platform:
Game Boy Advance

Release Date (Japan):
November 28th, 2003

Release Date (North America):
September 21st, 2004

Release Date (Europe):
June 4th, 2004

Developer:
Nintendo RD1/Suzac

Producer:
Takehiro Izushi

Director:
Yutaka Hirata

Pilots:
30+

Tracks:
39+

Notes:
Link cable and e-Reader support.

Additional Resources:
Anime Screen Caps
E3 2004 News
Merchandise
Story Mode Guide
Track Listing and Maps
Zero Test Guide

Downloads:
f-zero_anime_trailer.wmv
Nintendo's E3 2004 Trailer (link)

Links:
GP Legend Official Site
GP Legend site (Nintendo Page)
NOM Article (Japanese)

Box Art:
Japanese Box Art
North American Box Art
European Box Art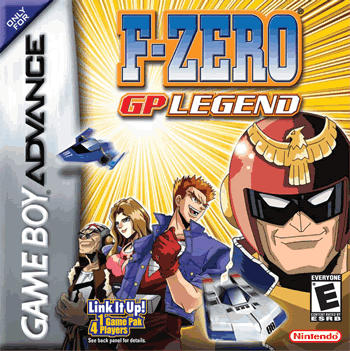 F-Zero hits everybody's favorite handheld game system once more! This time, it's based on the Anime series, and chock full of new features, such as a Story mode, and Zero Test mode. Not only that, but it's got different 30 machines to race, and it features several classic tracks (and music) from the original F-Zero. What's not to love about this game?