Platform:
Game Boy Advance (GBA)

Release Date (Japan):
October 21st, 2004

Release Date (North America):
Unknown

Release Date (Europe):
Unknown

Developer:
Nintendo RD1/Suzac

Pilots:
36

Tracks:
24+ (30 Custom Courses)

Notes:
Link cable support.

Additional Resources:
Course Creation
Magazine Scans

Links:
Official Site (Japanese)
Additional Screen Shots (IGN)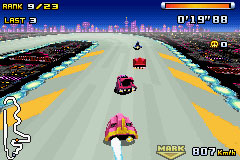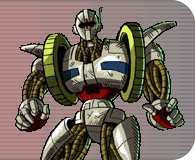 F-Zero's third outing on the Game Boy Advance brings a much-desired feature to the table this time: a track editor. Gamers can create new tracks, and then share them via passwords. There's a new replay mode, which stores your best races. Zero Test and Death Race makes a comeback, as well as a few new modes like No Crash, Slalom, Speed 800, and Top Keep. This looks to be the penultimate F-Zero GBA game.