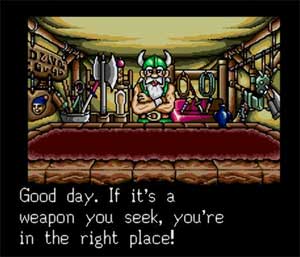 In order to better feed video game fanaticism, DAC is slowly building a links page. If you want your link put on this page, please respond here.
GameFAQs -- If you are looking for codes and walkthroughs (but couldn't find them on this site already) this is the place to check out, especially if you are interested in home versions of Golden Axe.
Classicgaming.com -- Death Adder's generous host. They are the starting point for all things good in this world.
Golden Axe Projects Message Board -- The Songbird created this community for Golden Axe fans to discuss and display any Golden Axe work. Great information awaits.
The Console Legend, Sega Master System -- Home to Golden Axe Renegade and lots of other great information about the Sega Master System.
DamnD's Arcade -- Home of the Callus Capcom Arcade Game Emulator, arcade sounds, and more.
eBay -- If you need something Golden Axe related, anything from handhelds to uprights, eBay has it . . . eventually. You just need to be willing to have patience and spend money. By the way, I'm a Golden Axe eBay expert. If anyone wants to know the price they should pay for any Golden Axe item, just ask.
Revenge of Death Adder PDF File -- Do you have an upright Revenge of Death Adder machine, and need to know it's inner workings? Check out this complete manual scan.
Death Adder's Slot Machine -- Not getting enough Golden Axe because of your gambling addiction? Try this program and combine your vices.
DeviantArt -- This is the place where I got a lot of the art for the Fan Art part of the website, with permission, of course. If you're looking for more great art of all kinds, take a look.
Game Wallpapers -- In need of Golden Axe (or other Sega/Capcom games) wallpaper for you computer, this is the place to go.
Online Emulation -- Looking to play games online without having to download an emulator. Golden Axe can be found here or here.
Neverwinter Golden Axe -- I also received an email from Dagaus, the creator of the Neverwinter Nights mod Golden Axe: The Rise of Death Adder. Along with some screenshots (posted in the fan art section) he also sent this update on the mod:
For now i can tell you that the GA:RDA has all the elements of the series, like the thieves stealing in the night and dropping potions, the magics, the minions (longmoans, skeletons, undead) etc. You can also choose your path during the game, in a total of 29 stages (Some are substages).

If you're a fan of the series, be sure to check it out.

For more mods, check these out:

Legend of the Golden Axe
http://nwvault.ign.com/Files/modules/data/1026158289777.shtml

Legend of the Golden Axe II
http://nwvault.ign.com/Files/modules/data/1027531111610.shtml

Legend of the Golden Axe: Battle Chess
http://nwvault.ign.com/Files/modules/data/1028350702320.shtml

Golden Axe: The Rise of Death Adder
http://nwvault.ign.com/Files/modules/data/889151534490.shtml