Gilius Thunderhead Avoids Jail
in Turtle Village DWI
Thursday, August 9th, 2001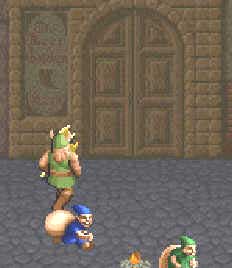 After months of accusing police of setting him up because of his celebrity status, weekend warrior Gilius Thunderhead plead guilty on Tuesday to a reduced charge of reckless driving in connection with his arrest outside a bar last February.
Gilius avoided jail time after prosecutors agreed to drop charges of drunken driving and disturbing the peace, despite the fact that police had said he failed sobriety tests, officials said.
Superior Court Judge Jesse Rodriguez sentenced Gilius to two years of probation, ordered him not to ride dragons with alcohol or drugs in his system and to pay $1,350 in fines and costs. Rodriguez also ordered Gilius to remain at least 100 yards away from the Beer Garden nightclub outside Turtle Village , where he allegedly beheaded a bouncer on the evening of his arrest.
Gilius was not in court for Tuesday's hearing and entered his plea through his attorney, Mark Geragos, who said he was "pleased'' with the case's resolution. But he maintained that Gilius had been set up because of his notoriety.
"Obviously we're tickled pink,'' Geragos told reporters after the hearing. "My client is an upstanding citizen and an upstanding man. Those courtroom bastards ain't hear the last of us."
Gilius was arrested last February after a patrolman noticed that he was riding his dragon erratically. Upon being stopped, Gilius was struggling in vain to open a beer bottle with the edge of his sharpened axe. Geragos said that Gilius was targeted by police because he is a well known savior of the world.
Police said that Gilius failed balance tests, and that a breath test for his blood-alcohol content showed that he met the threshold for riding under an ``impaired'' state due to the influence of alcohol, glue inhalation, and rancid beef jerky, court records show.
On Tuesday Prosecutor Kenneth Meersand said there had been difficulties with the case which could have swayed a jury in Gilius's favor and that with the guilty plea he got a ``sure thing.''
"I wanted to hear Gilius say the word 'guilty,' based on all that he's been presenting to the media ... that it was a police setup,'' Meersand said. "It would have been tough to convict him in front of a jury. He's saved everyone's life at some time or another."
Gilius is separately under investigation by a congressional panel for allegedly smuggling elves through customs to sell at area pet stores. Gilius denies all charges.
Back to the News page