Ax Battler to Join Backstreet Boys
Tuesday, August 1st, 2001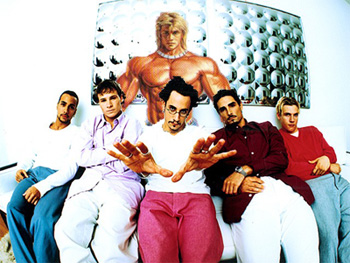 In news that shocked both fans and the entertainment world, sword-wielding barbarian, Ax Battler, joined with the pop sensation Backstreet Boys for the remainder of their North American tour.
Earlier in the month, the band was forced to postpone their tour. A.J. McLean, 23, one of the group's main heart-throbs, entered into a 30-day treatment program for alcoholism, depression and other problems, and the group was set to return to the road next Tuesday. On doctor's advice, McLean decided to extend his stay another two weeks, apparently canceling the remaining dates of the summer tour. The news of the cancellation spread quickly spread across the country.
"I was heartbroken," said Suzie McClellen, age 14, who planned on attending a summer concert date. "I thought, 'Oh, my god, what are we going to do without A.J.?' I just wanted to curl up and die."
"We wanted to do our shows," Backstreet Boy Kevin Richardson said in a telephone interview. "We wanted to play for our fans. But we also wanted what's best for A.J. So we called up our old friend Ax Battler."
Battler, best known for his frequent and bloody battles with Death Adder, is new to the music scene, only last month releasing his first recording "The Swords I Have Loved." The album, which cost over ten million dollars to produce, has yet to break into the top 500. Despite his apparent lack of success, the Boys saw in him the electricity they needed.
"For one," Richardson said, "he works without a shirt, which is good for the female fans. Plus, he can perform the dance routines very well."
Battler expresses that he is "grateful" for the opportunity to perform with the best-selling group. "This has long been a dream of mine," explained Battler. "I really don't care for their music, but I do like having thousands of people screaming my name." Battler spent much of the weekend rehearsing routines and songs with his new band mates.
Early reports rumored tensions within the new group. Insiders say that much of the problems came from Battler insisting the band be renamed the "Battlerstreet Boys." Dean Harlow, spokesman for the group, denied such claims. "They all are artists," he explained. "On occasion, their creative differences collide. It's nothing."
Friends of Battler show surprise at the union of two very different artistic forms. Tyris Flare, longtime companion of Battler, said "We were all a little surprised. When you listen to 'Swords' there really is no music at all. Just a full hour of slicing noises and screams. I have to admit, I don't get it."
Others have shown similar concerns with the union. "I figured if they would pick anyone, they would pick me," said Little Trix, whose band, Red Haired Stepchild, recently broke into the top ten in Japan. "I'm younger, faster, have better moves, and have killed just as many people as Ax—but in half the time!"
The Backstreet Boys are touring to promote their new album, ''Black & Blue,'' which has sold 5.2 million copies in the United States in the 35 weeks since its release. With Ax Battler acting as replacement, the tour will resume on August 10 in Milwaukee, according to a statement.
Back to the News page