PLAYERS LINKS!!
This page is dedicated to any players who have links they'd like to put on the VPHQ site. Have a personal website with a section devoted to VP3. Throw us a link. We'll be happy to put it up! Each banner is a link back to the players site, so just click on the banner to check out their sites.



Steve Jennings and his wife Sharon operate a billiard Pro-Shop and cue repair
business in Charlotte, NC as well as a BCA recognized teaching academy. They are also
the tour directors for the Fury Carolina's Amateur 9-Ball Tour. Both are active league players
in the APA and BCA. Steve is a graduate of the Cue-Tech Billiard Training School where he
studied under Master Instructors Randy Goettlicher and Leslie Rogers. They've also been
kind enough to grant us permission to use some of their graphics on our new cue pages which
will be opening soon.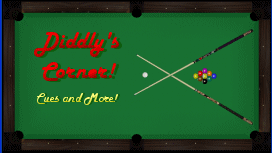 Its for free forums
is about anything free, fun, games, jokes, support, and loads of other things.