So you want to make a custom pool cue but don't know where to begin?
Join our resident Virtual Pool cue making guru, Coyote, for a steph by step lesson in cue skinning.
Required Tools:
Graphics Program like Paint Shop Pro or Adobe Photoshop (PSP7 used here)

Cue Installer Program

Cue Skinner Program

Compression Utility like Winzip or Winrar

Inspiration and Imagination
Step 1: Creating Cue Images
The first step in creating a cue is to have an idea about what you want to be on your cue. You need to have an image that is 256 pixels wide by 768 pixels in length. It may be difficult to find an image of that exact size, but you can resize it with your graphics program quite easily. This is the image to be used in this tutorial.

After finding the image that you want to use, create a new folder for your cue. In this case, the path is C:/ CUES / WHITE ROSE. All files will be saved here.
This image is 256 x 768 pixels in the windows bitmap ( .BMP) file format. All the image files are BMP's and are a color depth of 256 colors. Now that you have your image and you have it sized to 256 x 768 pixels you have to decrease the color depth to 8 bit ( 256 colors ). In PSP7 ( Paint Shop Pro 7 ) click on COLORS, then DECREASE COLOR DEPTH, then click on 256 COLORS ( 8 Bit ).

Next, this window will appear.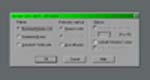 Make sure your window looks like this. Click OK. On the far right side of the PSP7 window you will see your pallet of colors. It will change when you switch your color depth from this:

to this:

Your colors will be different however if you are using a different picture. Once you have converted to 256 colors these are the only colors you will be able to use on that image.
© 2003 Reserved - VPHQ.com