5.30.00
Rockman Battle & Fighters
Screenshots, at last (thanks to Gameplayers HK!). Though, images are about all that's available on this long speculated title from Capcom. Basically, what's known so far is that the game will be a combo of the two (rather obscure) Megaman fighting games released in Arcades around 1996~1997 (which, for those who are unaware, aren't exactly fighting games in the purest sense of the word. Imagine skipping directly to a boss battle in any Megaman game, and you've got the concept behind these). Could be hot!

Metal Slug: 2nd Mission
Over the weekend, Torture whipped out the current issue of Neo Geo Freak magazine and grabbed some scans of the Metal Slug: 2nd Mission Level Path chart and Character Rank chart, so have a look: [Path chart] [Rank chart]

Hardshells have RETURNED!
Today NCS made a rather noteworthy addition to their inventory - Asian versions of Cotton and Coolboarders Pocket. Not only have the titles been virtually impossible to find in the US until now, but these are actually packed in hard cases, proving that SNK has not completely done away with the luxurious black plastic we all know and love.
---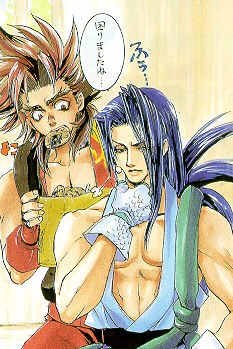 5.26.00
Future Releases
SNK recently revised their Japanese release schedule, the Coming Soon section has been updated as well. No major changes were made, though some dates have been added. We've been able to translate about 98% of the list, though we're still stuck on a few titles and will try to update with correct names/developers later. Though we're still not listing them in the Coming Soon section, SNK has added more titles to its NGP Best Collection. This time, Card Clash SNK & Capcom will get the re-release treatment on August 3rd for the attractive price of ¥2,800 (about $25).

New Scan
The spine of the March 1999 issue of Neo Geo Freak was once again broken over the scanner to capture the glory of the "I'm Not Boy" launch campaign. Click Here to check it out!

E3 Photos
Care to see what SNK's E3 booth was like this year? Kent Keltner has provided two shots from the floor - [1] [2] - nifty...though eerily unpopulated.
---
5.22.00
Old Ads Revisited
substance J was able to dig up the original "Not Boy" NGPC launch ad in an old issue of Neo Geo Freak magaine, and has scanned it for the Omake section. You can also check out the goofiness by simply clicking Here
Links!
The Links section has been updated a few backlogged link additions, such as NGP World and Neo Geo Pocket Power.
---
5.16.00
E3 Promos
Finally some more news (of sorts) out of E3. Check out the links below for scans of some documents and promotional items from SNK's booth. A huge thanks go out to Kent Keltner, who hauled these and other wonderful goodies back for us to scan, since SJ was unable to attend the show this year (and on a side note, Kent says that SNK's booth was far better this year than last).
Data Sheets