2 February 2003
This is the place to vote for your favourite entry in the Great Jumpman Level Design Competition. The voting form is at the bottom of the page.
Huge thanks to the six entrants who have put my own effort to shame. I find it amazing how varied the seven entries are, given the rather severe limitations of the Jumpman Lives! level editor. Enjoy!
To play each level, just download the .JML file into your Jumpman Lives directory. You cannot have more than three JML files in the directory at one time. Questions? Email me at matty@classicgaming.com. Voting ends 31 March 2003.
---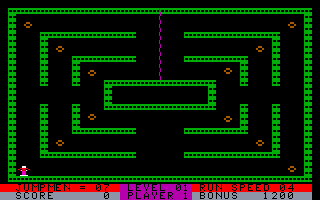 "Dodge 'Em", by Manuel (of The Epyx Shrine)
Manuel has created a top-quality level in Dodge 'Em that is very different from the usual Jumpman fare. Instead of just running along platforms, you'll need to shimmy up and across them to complete this level.
Be sure to visit Manuel's website, The Epyx Shrine, and vote for Jumpman in his current poll.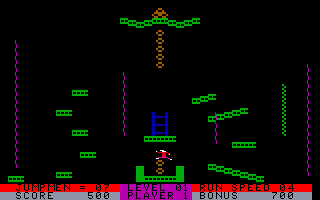 "Heaven", by Jeff Gregg
Jeff Gregg's Heaven is one of the more difficult entries. You'll need to make more than one leap of faith and there is one particularly darstadly jump (see screenshot). It's tough but not unfair - and there is only one smart dart.
"KrisHaven", by Chris Johnson
Chris has admitted that the first time he played Jumpman was just one week before he created this level. You wouldn't know it from playing KrisHaven though. It's tough - three smart darts - and requires more strategy that just about any other entry.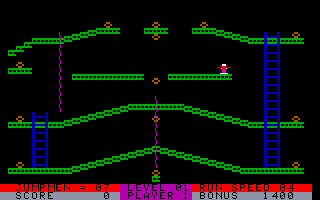 "Lounge", by Matty
This is my own version of an Easy Does It-style level. Nothing too tricky or complicated, with plenty of different routes to take whilst collecting the bombs. I was pretty proud of this level until I saw the other entries...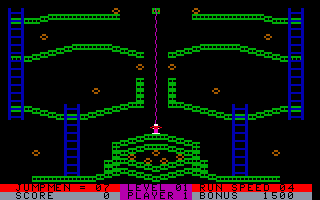 "Pancakes", by Khaine
Khaine's Pancakes is a great level from the internet's most prolific level creator. Lots of smart darts, lots of bombs, lots of platforms and lots of fun.
Khaine already has 180 Jumpman Lives levels hosted here on the Jumpman Lounge, which you can download from the Resources page.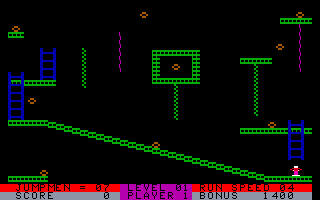 "Playground", by Keir (of The Ultimate Wizard Website)
Playground is a fairly tough level that has a couple of particularly clever little touches. Keir claims that he planned to submit a different level, although it's hard to believe that his substitute could have reached the perfect balance of action, stategy and difficulty that he has created with Playground.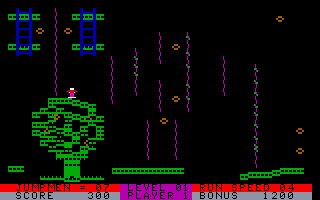 "Seedling", by Dave Campbell (of Jumpman Zero)
Dave took time away from his Jumpman Zero PC development to put together the unique Seedling, which abounds with some very unusual features. It is, by his own admission, a gimmick level, but is still great fun to play.
---
Voting Form

---