---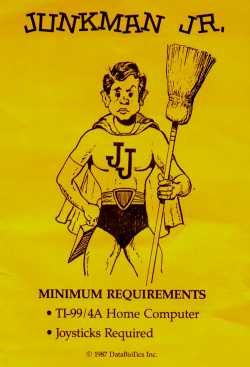 To the right is the Junkman Junior cover. He might look gormless, but he's going to "clean up this town!" (or something). Anyhow, I'll leave Keir to give us his impressions of 1987's finest Jumpman-themed game (without actually playing it).
The opening screen shows the words JUNKMAN JUNIOR written in girders while the Jumpman Junior theme plays. Not very exciting. When the song is over it briefly shows you each of the 11 levels. At first glance they look like copies of levels 1-7 and 9-12 from the Commodore 64 version of Jumpman Jr. but with much blockier graphics. In place of bombs, each screen is littered with bits of junk that look like oil cans, suitcases, milk crates, etc (see screenshot below). Also the names have been changed as such (I've listed the original name in parentheses):
1. No Big Thing (Nothing To It)
2. Shoot Shoot (Fire! Fire!)
3. Gristfall (Sreddal)
4. Firestones (Hellstones)
5. Shuumballs Revenge (Figurits Revenge)
6. Planks (Walls)
7. Criss-Cross (Zig-Zag)
8. Typhoon (Hurricane)
9. Blackhole (Blackout)
10. Here There Everywhere (Herethereeverywhere)
11. Dungthings (Hatchlings)
As you can see, Spellbound has been replaced with the 12th level from Jumpman Jr. presumably because they were too lazy to change the letters from "JUMPMAN EPYX" to "JUNKMAN DBT".
Below is the sole screenshot that I have. Links to download each of the (pretty funny) four pages of the manual are provided below. Each page is about 50K.
More to come soon.

---