Guardian Heroes | Treasure
The belt-scroll action game (or "beat 'em up", if you must) was quick to establish an affinity with the versus fighter. Since Tenchi o Kurau II: Sekiheki no Tatakai (1992) introduced the subgenre to Street Fighter-esque command moves, various fighting game concepts have been adopted as a means of supplementing a fighting system on top of its own brand of fighting multiple enemies in a larger space. Guardian Heroes is a game that takes its affinity to the extreme, with Treasure discarding much of the Final Fight canon and instead looking to versus fighters (such as their own Yuu Yuu Hakusho: Makyo Toitsusen) for a framework. Just in case that premise alone wasn't satisfactorily contrarian to warrant the Treasure logo, they've also embraced many role-playing components, namely spellcasting, stat-building, multiple routes, and a pronounced narrative. Similar initiative was applied to the games visual style, with character designs featuring vibrant colors and bizarre proportions in the manner of Popeye. For sure, not many people would fault this game on peculiarity.
The most significant of these idiosyncratic qualities is the use of strict two-dimensional, Street Fighter-style movement. This approach allowed the designers to endow characters with an exceptional amount of actions. Consequently, it also enabled these actions to be performed with a degree of fluidity that would be hard if not impossible to achieve were a similar scheme attempted with the traditional nuanced depth movement in place. Each of the four heroes possesses a repertory of strikes rivaling many versus fighters, even before accounting for the many magics they can cast (executed via command move inputs), or the directives they can issue to an undead, computer-controlled partner. Another fighting game trait is assumed in the way we can employ attacks: by sequencing them into combos and juggles, with frequent opportunity to rally airborne opponents between yourself and a companion (an idea first seen in Makyo Toitsusen). What's more, enemies are differentiated in weight characteristic, making the optimal techniques to engage them contextual and further imbuing combat with an already rare potential for variety. This is the success of Guardian Heroes.
But movement is also far from confined. The drawbacks of limiting space have been anticipated, and for the most part, remedied. A marked vertical element to the playfield lets players outmatched and besieged with near ceaseless pokes to catapult themselves with a high-flying special move (Harn's uppercut, for example) into a more favorable position. Double-tapping the guard button results in a King of Fighters-style dodge that offers a brief moment of refuge. You can also escape between an additional two tracks of movement (good for dodging laser blasts that can melt through your HP bar even if blocked), something we could attribute to Garou Densetsu but its brilliance as a mechanic is really exposed here (and Makyo Toitsusen, by the way), where you're dealing with more than two people on the screen. Of course, this perhaps introduces the exploit of being able to easily disengage with a majority of the opposition. Yes, some times, but you'll generally start a scenario with a hefty sum of knights, sorcerers, robots, and monsters to whittle before this becomes an option. Whether or not this aspect resulted from balance concerns, or simply an unabashed technical exhibitionism on Treasure's part, it works. You can't help but be impressed by the judiciousness under which Guardian Heroes has been crafted, especially given the lack of precedent. Well, so far.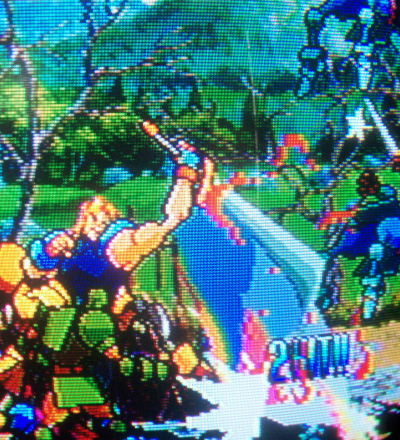 Fighting game fans expecting to sink their teeth into an endless array of combos may be dissappointed to a discover a complexity that is more Champion Edition than Children of the Atom without the aid of collaboration. With the exception of Ginjirou, the other characters are generally unequipped to sustain juggles before suspended enemies are able to bail out of their vulnerability period and retaliate themselves (until they die, that is; then you can juggle their corpses all day if you want). It's easy to see why this was done though. Obviously they wanted to avoid a situation like in Sengoku 3 where enemies effectively turn into punching bags after the first hit, removing a portion of the strategy in maneuvering them. What's somewhat harder to sympathize with is the flagrant overpowering of the magic attacks, which do in fact depreciate any intricacies involved in combat to the point of making any semblance of challenge nonobligatory if a player chooses to allocate their experience points accordingly. The boss battles are, unfortunately, similarly shoddy, based on abusing AI partners rather than necessarily studying the patterns and applying involved counterattacks.
Much like its mechanical counterpart, Guardian Heroes features a curious and eclectic aesthetic conception that unlike it, could be termed as a success almost accross-the-board. It certainly represents one of the zeniths of the 32-bit generation, along with works such as Kisuishou Densetsu Astal and Princess Crown (though of a slightly lesser caliber than those). The only issue here would be the sometimes incohesive beauty (marred by pixelated foreground objects and such) that is really unavoidable given the heavy use of sprite scaling. But by in large this shouldn't be enough to silence our applause. Captured here is an authentic likeness of Japanese animation's most esteemed fantasy epics (in no small part due to the recruiting of actual industry verterans not only for the opening sequence but for in-game backgrounds and objects,) though Tetshuhiko Kikuchi's minimalist yet eye-catchingly saturated character designs would be a source of envy even within the field. This is completed with a soundtrack that can aspire to the customary imposing fantasy orchestrations, but can also venture into all-out synth wackiness blended with the occasional jazzy or electric guitar interlude.
The possibility of mangling the difficulty curve so drastically that victory can be embezzled by intermittently spamming the same magic attack with little to no thought is quite a heavy blemish on an otherwise remarkable action game. It can still be a quite good game given the player can find the right doses of self-control in tooling their attributes. What it can't be is a great game, as that accolade is reserved for the likes of Aliens vs. Predator, Battle Circuit, Denjin Makai II, and The Gladiator. Games fully and rigorously designed in every facet to provide balanced function and challenge (to every player, not just the ethical ones). No attempts to cloak game-breaking capabilities under a false merit of enhanced freedom or non-linearity. Nevertheless, Guardian Heroes stands as one of the more valuable episodes in the genre. For the audio-visual experience, and for the peculiarity.
~JoshF
NOTE: Readers still waiting for mention of the versus mode should go play Street Fighter III immediately. Or Super Smash Brothers for that matter.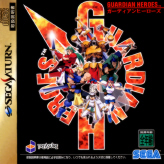 GAME INFO
JPN TITLE
ガーディアンヒーローズ
DEVELOPER
GENRE
TREASURE
ACT
RELEASED
PLAYERS
96.01.26
1-2 (STORY)
STAFF LIST
PLANNER, EXECUTIVE PRODUCE, CHARA DESIGN, CREATION & ACTION DIRECTOR
TETSUHIKO KIKUCHI
EXECUTIVE DIRECTOR, DIRECTOR & LEAD PROGRAM
MASAKI UKYO
DIRECTOR OF GRAPHICS
KAFUICHI
SOUND DIRECTORS
NAZO2 SUZUKI
NORIO HANZAWA
SOUND EFFECTS
SATOSHI MURATA
EDITOR & SYSTEM PROGRAM
YAIMAN
EMERGENCY STAFF
HISASHI FUJITA
KONIG
MANAGEMENT
MASATO MAEGAWA
BACKGROUND GRAPHICS
KOUICHI KIMURA
CHARACTER GRAPHICS
TETSUHIKO KIKUCHI
TSUNEHISA KANEGAE
NAOKI KITAGAWA
TSUYOSHI NAKAZAWA
NOBUHISA TANAKA
SOUND
KATSUHIKO SUZUKI
NORIO HANZAWA
SATOSHI MURATA
CHARACTER ANIMATION
ART HOUSE KUSANAGI

ORIGINAL PICTURE
KATSUHIKO NISHIJIMA
TERUO TAKAHASHI
SHOUGO MORISHITA>
SEIKI TANAKA
TAKUYA MATSUMOTO
ANIMATION
SHOUGO MORISHITA
SEIKI TANAKA
TERUO TAKAHASHI
STUDIO TAKURANKE
ANIME BG GRAPHICS
ART HOUSE KUSANAGI
ART
KAZUO OGURA
GRAPHICS
YUJI KIBARA
KAZUO OGURA
YOJI NAKAZA