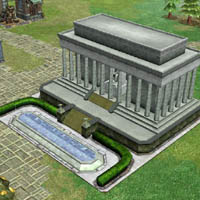 Lincoln Memorial
Civilization: United States
Ability: Can call upon a massive paratrooper drop anywhere on the map.
The Lincoln Memorial, which was created in honor of the 16th American president, Abraham Lincoln, symbolizes the freedom of the American people and acts as a tribute to his great accomplishments. Modeled after the Greek Parthenon, the Lincoln Memorial stands at an impressive 99 feet, while the central chamber is 60 by 74 feet. The memorial has a total of 36 limestone columns, each representing one of the 36 states that were in the Union during Lincoln's lifetime.