RPGDot Platinum Award - 92%
Turrican / 5:28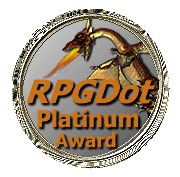 RPGDot have posted a rather divine (boom-boom!) review of Divine Divinity, and saw fit to award it their Platinum Award with a score of 92%. Here are some choice quotes:

This game is fun. This game is addicting. What more needs to be said? Well, I suppose I should convince you its fun. Okay, I can do that. I've been playing nonstop in every spare moment I have since I tore off the packaging and installed this game. With fast-paced action and interesting quests that aren't your normal fed-ex types this game puts a fun little twist on everything. How can you not like a game that gives you quests to wash dishes, blow up supply trains, solve murder mysteries and poison wells?"

and concluding that:

"Overlooking this game would be a disservice to yourself. Larian has done what they set out to do. They've given you simple, fun gameplay and the depth that makes the roleplaying genre great. They have blended the best of both hardcore and simple action roleplaying games. The possibility of creating your own adventure is here. The possibility of playing the game the way you want is here. Hey Origin, this is what Ultima 8 should have been."

Can there be any higher praise?