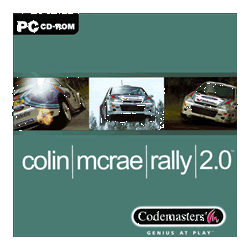 Colin McRae Rally 2 is the long awaited follow up to the original racing hit - Colin McRae Rally. Just as the original CMR raised the bar for rally racing games so to does CMR2.
The supercharged new game engine CMR2 will take you across 8 countries and more than 90 different rally stages in brilliant 32-bit textures. The improved physics engine will put you in control...or out of control at the wheel of one of 13 world renowned rally cars meticulously created using actual manufacturer's data. Get in on the action from one of several camera views including an accurate 3D representation of each cars cockpit but don't forget to strap yourself in because CMR2 features a brilliant new damage model. You'll break out your lights, shatter your windscreen or even pop your bonnet.
CMR2 offers several modes of play including arcade and simulation. Play in arcade mode dueling it out against the others around a course or stick to the more traditional championship mode with three different skill levels. Best of all you can play with your friends with two player split screen and up to four player alternating over a network LAN or the Internet.
The Cars and Stages of CMR2
Countries:

Finland
Greece
France
Sweden
Australia
Kenya
Italy
United Kingdom

Initial Cars:

Ford Focus
Mitsubishi Lancer Evo
Peugeot 206
Seat Cordoba
Subaru Impreza
Toyota Corolla

Bonus Cars:

Ford Puma
Lancia Integrale
Lancia Stratos
MG Metro 6R4
Mini Cooper
Peugeot 205 Turbo 16
Sierra Cosworth

Visit the Service Area to learn more about each car, how to get bonus cars and some tips on setting up your car for the different countries.